Fabbisogno termico
The consumption of the civil sector are often due to a high degree of energy inefficiency of the utilities, both for what concerns the thermal and electrical requirements.
The heat demand is mainly due to the need for residential space heating and domestic hot water production. Caebit not only greatly improved the comfort levels also decreased drastically heat consumption through its innovations.
The energy efficiency is achieved (certified on the basis of the annual heat demand per square meter) causes a significant direct cost savings in the bill.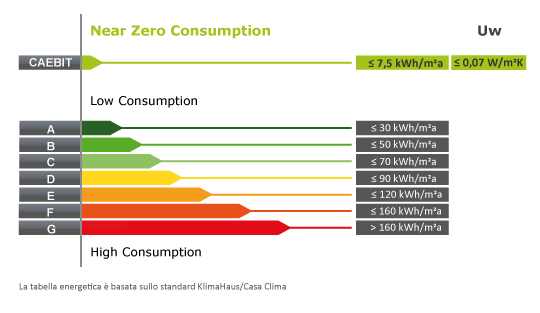 As can be inferred from the graph, the energy needs of a housing unit built with technology Caebit is equal to 7.4 kWh / m² year about 1 / 4 compared to the category of excellence of the Casa Clima and scale about 12 times less than home energy class D (class that owns the majority of housing units on the national territory).
These savings are in addition to reducing emissions harmful to the environment is a real benefit to the user that will reduce to a minimum the costs incurred by the need of heating.