A new style of life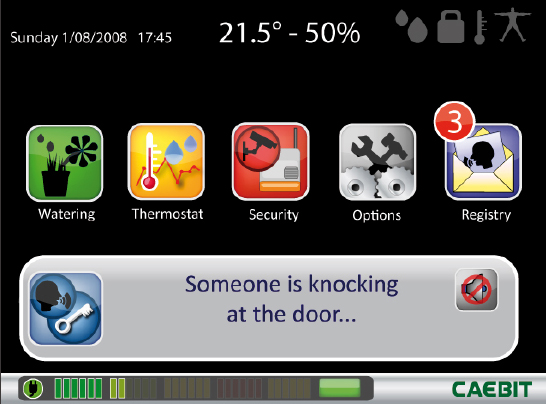 The temperature values, humidity and carbon dioxide values are continually monitored in the single flat and a centralized computer system assures the thermoigronometric health. A washing air-system, only when it is right, let purified air to come into the rooms.
A system of natural filtering attends to purify the air of all the inhabited rooms. The introduced air is completely purified by smog, dust, soot, mould spore, acara, bacteria, virus, pollens and gas. This way, there will be best conditions for all people and, mainly, for those mostly exposed to air pollution such as: children, elderly, asthmatic and people with bronchitis.
Everything is managed by the building computer. A thick sensor network monitors the whole condominium/building continually, as it happens in a normal nervous system. In fact the computer system gathers the data, processing and translating them into useful information for the building management. That is, all the processes are automatized and optimized, getting the apparatus in order to spare energy and allow the single joint-owner to personally choose the preferred enviromental conditions.
Through a coloured friendly touch-screen, with a simple and evident interface, it is possible to control the whole apartment. It is also possible to choose temperature and humidity values, to start and stop the alarm function, to answer the house-phone.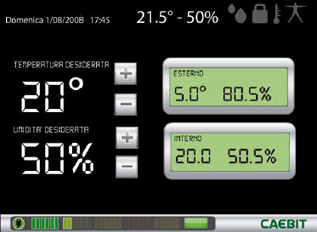 In fact, the touchscreen is equipped with a particular integrated video-housephone service: if people are not in, the video-housephone answering system will answer and record the video-message and send some informed communication on the mobile-phone or electronic post-office box of the absent person. Besides, a web-datum place, with personalized access, will allow viewing the consumption as quickly as possible and manage your own house at a distance.
The whole Caebit technologic range, besides to guarantee people's health in short period, offering healthy rooms, gets enviroment respect and, consequently, planet defense.
Heating/cooling and health warm water are produced through solar energy and heating pumps. Besides, as said before, electric cooking plates are got in every apartment. For which, the linking to the marsh-gas pipes aren't necessary anymore, avoiding, in addition, the pollution deriving from combustion.
An innovative system, which make up photovoltaic technology with the thermic-solar one, guarantees the covering of the energy necessity of the joint ownership systems. The new panels can guarantee not only the production of electric energy but also health warm water, eliminating the negative effects deriving from the superheating of the photovoltaic cells, considerably improving their efficiency.