Results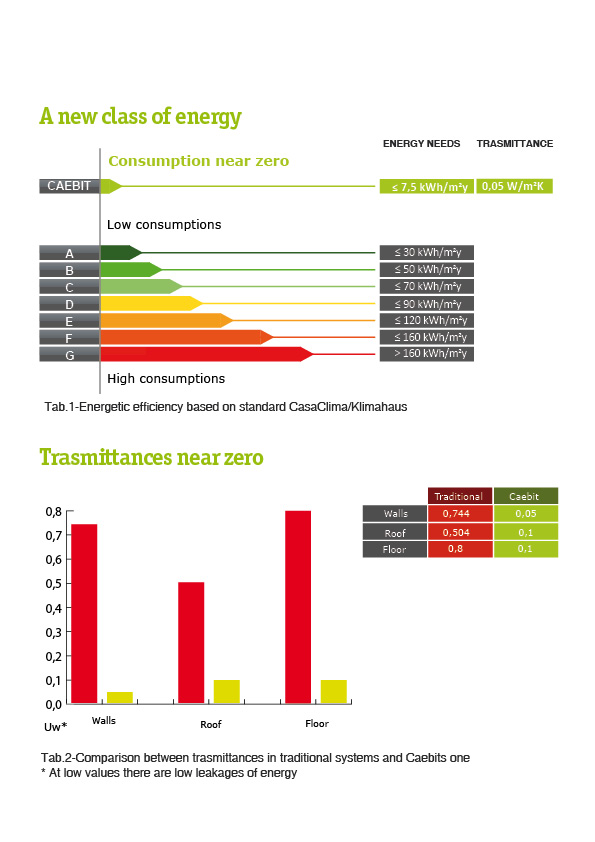 The illustrated innovative system has achieved the construction of a building, totally unprofitable, with an energetic requirements like of 7,5 kWh sm a year. As the schedule N.1 shows, such a result cannot be compared with no existing standard.
Such results have been possible thank to the employment of the latest cleaned technologies available on the market, beside our new patented technologies that are charateristic of very low thermic trasmittance factor.
Cost/benefit analysis: the new building techniques have been planned and realized without forgetting the need to cut down the production costs, so that CAEBIT can be competitive in the global market, where many competitors are introducing technological innovations aimed to cut energetic consumptions and atmospheric pollution.
As a result of this business approach, we have been able to cut down the costs to guarantee the industrial building.
The achieved results, unprofitable building with economically advantageous constructive techniques, generated the demand to produce new products and/or materials at industrial level.
This allows CAEBIT to improve relative economic advantages, getting also, the possibility to make a product draw-plate not yet on the market, varying and joining consumptions to our business sales, consolidating new forms of management.